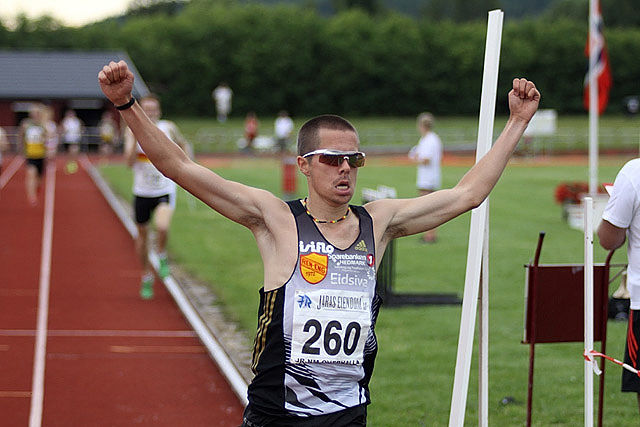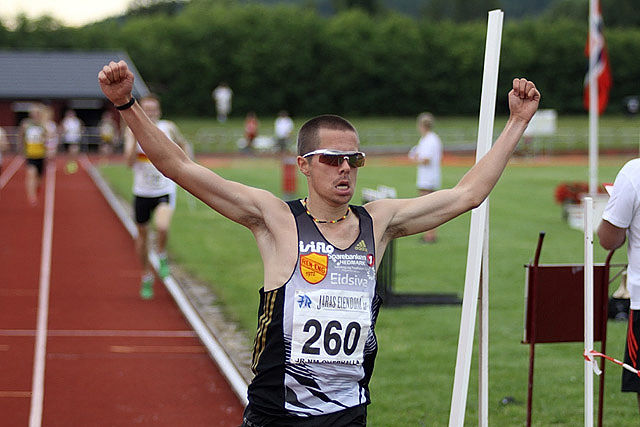 Vegard Ølstad mangla bare drøye 2 sekunder på å se 13-tallet på 5000 m. (Arkivfoto: Stig Vangsnes)
Solid 5000 m-pers av Vegard Ølstad i Stanford Twilight
Vegard Ølstad persa med nesten 16 sekunder da han løp 5000 m på 14.02,13 i Standford Twilight 23. april. Flere norske USA-stundenter var i aksjon sist helg.
Artikkelen fortsetter under annonsen
Den gamle persen til Vegard Ølstad var på 14.17,92 og skrev seg fra 2014. Nå gikk det over 1 sekund fortere per runde, og 14.02,13 holdt til en femteplass i feltet. I fjor var det bare fire norske menn som løp fortere i løpet av hele sesongen.

I Norge heller ukjente Alex Østberg løp 1500 m på 3.49,70, noe som holdt til en tredjeplass i D-heatet. Østberg er bare 19 år, og tida er bare 2 sekunder bak kravet til junior-VM.

Norske seire ble det også - ved Elisabeth Angell Bergh og Karoline Skatteboe. Angell Bergh vant 1500 meteren i Tom Jones Mermorial Invitational på 4.25,02. Hun var nesten 7 sekunder foran nummer to og var bare drøye to sekunder bak den to år gamle persen. I det samme stevnet løp Magnus Pettersen samme distanse på 3.49,46 og ble nummer fem.

Skatteboe vant 3000 m hinder i Michael Johnson Invitational på 10.37,88. Hun var helt utrua og vant med en margin på hele 21 sekunder. Fram til persen hennes skilte det i overkant av 10 sekunder.

Aurora Dybedokken løp nesten like fort som Angell Bergh da hun ble nummer fem i John McDonnell Invitational med 4.25,47. Persen hennes er på 4.21,27 og skriver seg fra da hun tok sølv i junior-EM i 2013.

I Virginia Challenge løp Julie Mathisen både 1500 og 800 m, på henholdsvis 4.28,19 og 2.10,24. Det var bare sekundet bak persen på 1500 m og knappe 3 sekunder bak persen på 800 m.

Stanford Twilight, Stanford, California 23. april
5000 m menn
1
Craig Nowak
Oklahoma State
13:54.37
2
Daniel Everett
Iowa State
13:55.13
3
Joe Hardy
Wisconsin
14:00.81
4
Ryan Forsyth
Colorado
14:01.36

5

Vegard Oelstad

Oklahoma State

14:02.13

6
Owen Dawson
Unattached
14:03.43
7
Sam Wharton
Stanford
14:03.52
8
Joseph Stewart
Miami (Ohio)
14:04.40
9
Matt Leach
San Francisco
14:05.87
10
Brian Llamas
Iowa State
14:08.00
11
Patrick Gibson
Stanford
14:08.50
12
Miler Haller
Boise State
14:12.13
13
Alex Short
San Francisco
14:13.48
14
Rhys Park
Boise State
14:14.77
15
Elijah Armstrong
Boise State
14:16.39
16
Ean DiSilvio
Penn State
14:17.31
17
Chandler Austin
Boise State
14:30.32
18
John Rodeheffer
Boise State
14:30.64
19
Riley Campbell
Boise State
14:34.93
20
John Bordoni
Stanford
14:56.74
--
Alex Ostberg
Unattached
DNF
--
Aaron Back
Boise State
DNF
--
Louis McAfee
Boise State
DNF
--
Blair Hurlock
Stanford
DNF
--
Russell Sandvold
Wisconsin
DNF
1500 m menn
1
Brannon Kidder
Penn State
3:40.11 1
2
Joshua Thompson
Oklahoma State
3:41.88 1
3
Sean McGorty
Stanford
3:42.22 1
4
David Elliott
Boise State
3:42.76 1
5
Grant Fisher
Stanford
3:42.85 1
6
Nick Harris
Colorado
3:43.07 2
7
Justin Brinkley
Stanford
3:43.44 2
8
Robby Creese
Penn State
3:43.86 1
9
Hugh Nicklason
San Francisco
3:44.12 2
10
Morgan Pearson
Colorado
3:44.33 2
11
Cole Williams
Georgetown
3:44.35 2
12
Joe Klecker
Colorado
3:45.32 3
13
Ammar Moussa
Colorado
3:45.40 2
14
Spencer Brown
Georgetown
3:45.40 3
15
John Dressel
Colorado
3:45.59 3
16
Andrew Dusing
Miami (Ohio)
3:46.08 3
17
Jack Keelan
Stanford
3:46.09 2
18
Connor Winter
Colorado
3:46.28 1
19
Andrew Rafla
Boise State
3:46.78 3
20
Ahmed Bile
Georgetown
3:47.08 1
21
Abraham Alvarado
Stanislaus State
3:47.17 2
22
Jeff Lautenslager
Boise State
3:47.47 4
23
Patrick Perrier
Stanford
3:47.78 3
24
Zach Perrin
Colorado
3:47.80 1
25
Thomas Coyle
Stanford
3:47.94 2
26
Justin Marpole-Bird
Strava TC
3:47.95 3
27
Erik Olson
Unattached
3:48.19 2
28
Tai Dinger
Stanford
3:48.23 4
29
Marco Bertolotti
Strava TC
3:48.76 3
30
Collin Leibold
Stanford
3:49.65 3

31

Alex Ostberg

Unattached

3:49.70 4

32
Yusuke Uchikoshi
Boise State
3:49.87 4
33
Ryan Driscoll
San Francisco
3:49.95 4
34
Austin Mudd
Wisconsin
3:50.04 1
35
Steven Grolle
Strava TC
3:51.32 4
36
Adam Thorne
Stanford
3:51.63 3
37
Benedikt Bünz
Strava TC
3:51.78 4
38
Tom Richardson
Boise State
3:53.30 4
39
Mohamed Aziz
San Francisco
3:53.57 4
40
Ryan Silva
Stanford
3:53.75 4
41
Abel Aleman
Stanislaus State
3:55.11 4
42
Garrett Sweatt
Stanford
3:55.19 4
43
McKena Ramos
Wisconsin
3:55.24 2
44
Matlazomatli Rojas
Boise State
3:56.42 4
--
Joseph White
Georgetown
DNF 1
--
Jordan Makins
Penn State
DNF 2
--
Charles Cooper
Georgetown
DNF 3
--
Luke Lefebure
Unattached
DNF 3
--
Luis Gutierrez
Big Bear Tc/
DNF 2
--
Will Drinkwater
Stanford
DNF 4
--
Edward Shepherd
San Francisco
DNF 3
--
Dusty Solis
Big Bear Tc/
DNF 1
--
Michael Lederhouse
Georgetown
DNF 1
Tom Jones Mermorial Invitational 22. april
1500 m kvinner

1

Bergh, Elisabeth

FR Florida

4:25.02

2
Huskey, Macy
SR Florida
4:31.94
3
Johnson, Amber
JR Florida
4:33.25
4
McDermott, Devin
SR Florida
4:35.67
5
Den Otter, Anne
FR Miami
4:36.84
6
Dyke, Emily
JR Vcu
4:40.10
7
Irwin, Alexis
SR North Florida
4:40.52
8
Rodriguez, Morgan
JR North Florida
4:43.40
9
Stallings, Emily
SO North Florida
4:50.23
10
Kerns, Emily
FR North Florida
4:52.16
--
Tubbs, Taylor
SO Florida
DNF
1500 m menn
1
Arroyo, Andres
JR Florida
3:44.89
2
Mulenga, Harry
Unattached
No Data
3
Parrish, Mark
Unattached
No Data
4
Reynolds, Mac
JR Florida
3:48.99

5

Pettersen, Magnus

FR Florida

3:49.46

6
Hall, Michael
SO Florida State
3:50.66
7
Garcia, Eddie
SR Florida
3:53.43
8
Miranda, Carlos
SO Florida
3:54.43
9
Clark, Jimmy
SR Florida
4:02.58
9
Kelley, Bryce
SO Florida State
4:02.58
Michael Johnson Invitational 23. april
3000 m hinder kvinner

1

Karoline Skatteboe

SR SMU

10:37.88

2
Shanoah Souza
SR SMU
10:58.29
3
Madison Zimmerman
SO Baylor
10:58.51
4
Katy Allen
JR Texas Tech
11:19.81
5
Cynthia Quiroga
FR Texas A&M-CC
11:38.00
6
Bridgette Kozar
SO Stephen F. Austin
11:40.46
7
Kelsey Warren
SO Angelo State
11:51.54
8
Carrisa Pinon
SO Texas A&M-CC
12:21.38
9
Maira Salinas
SR Midwestern St.
12:28.62
10
Stefanie Blaine
FR Midwestern St.
12:48.31
--
Anneke Grogan
FR SMU
DNS
John McDonnell Invitational, 22. april
Kvinner 1500 m
1.
Schweizer, Karissa
Missouri
4:17.46
2.
Kamilos, Jessica
Arkansas
4:17.97
3.
Boyert, Anna
Oklahoma State
4:20.11
4.
Ward, Regan
Unattached
4:23.92

5.

Dybedokken, Aurora

Oklahoma State

4:25.47

6.
Juodeskaite, Monika
Oklahoma State
4:25.82
7.
Adelsberger, Teylar
Missouri
4:26.20
8.
Worden, Aubree
Arkansas
4:37.43
9.
Hetherington, Abbie
Oklahoma State
4:37.94
10.
Stambolic, Marija
Kansas State
5:01.78
11.
Hiltz, Nikki
Arkansas
NT
Virginia Challenge 22.-23. april
1500 m kvinner
1
Marta Freitas
Miss State
4:11.52
2
Megan Moye
NC State
4:15.05
3
Paige Kouba
Harvard
4:16.52
4
Shannon Morton
Unattached
4:17.21
5
Ffion Price
Miss State
4:17.47
6
Frances Schmiede
Yale
4:17.70
7
Dana Giordano
Dartmouth
4:20.53
8
Britt Ummels
Mississippi
4:21.63
9
Sara Barron
Vanderbilt
4:21.90
10
Katherine Delaney
Vanderbilt
4:21.95
11
Emily Waligurski
Yale
4:22.11
12
Libby Kokes
Columbia
4:22.24
13
Helen Schlachtenhaufen
Dartmouth
4:22.50
14
Carol Strock
James Madison
4:22.82
15
Audrey Belf
Georgetown
4:22.99
16
Jessica Harris
Notre Dame
4:23.05
17
Bo Ummels
Mississippi
4:23.16
18
Emily Delvo
Bradley
4:23.47
19
Rachel DaDamio
Notre Dame
4:23.84
20
Josette Norris
North Carolina
4:23.95
21
Evelyne Guay
Iowa State
4:24.70
22
Taylor Worthy
Brown
4:25.18
23
Kaila Urick
Minnesota
4:25.40
24
Millie Paladino
West Virginia
4:25.44
25
Kathryn Lazarchick
Wake Forest
4:25.54
26
Clare Peabody
Brown
4:25.90
27
Rachel Sudbury
Bradley
4:26.14
28
Rebecca Deloache
Unattached
4:26.34
29
Olivia Sadler
Columbia
4:26.58
30
Amy Cashin
West Virginia
4:26.60
31
Jamie Piepenburg
Minnesota
4:26.66
32
Shannon Hugard
Cornell
4:27.23
33
Morgan Szekely
La Salle
4:27.55
34
Miranda Salvo
Pittsburgh
4:27.92
35
Julie Mathisen
Eastern Kentucky
4:28.19
36
Bethany Neeley
NC State
4:28.31
37
Meredith Rizzo
Yale
4:28.39
38
Taylor Mikkalson
Minnesota
4:28.65
39
Emily Bean
Mississippi
4:28.87
40
Mary Alex England
Mississippi
4:29.24
41
Lily Williams
Vanderbilt
4:29.28
42
Jackie Katzman
Cornell
4:29.63
43
Brianna Kerekes
West Virginia
4:29.96 (4:29.96)
43
Brooke Koblitz
Georgia
4:29.96 (4:29.96)
45
Haley Yost
Eastern Kentucky
4:30.70
46
Haley Johnson
Minnesota
4:31.18
47
Kristen Niedrach
Cornell
4:31.21
48
Melanie Vlasic
Pittsburgh
4:31.56
49
Katarina Smiljanec
Unattached
4:32.47
50
Maddie Criscione
Vanderbilt
4:32.77
51
Grace Brittan
Yale
4:33.05
52
Morgan Ilse
North Carolina
4:33.07
53
Kate Raphael
Yale
4:33.40
54
Karley Rempel
North Carolina
4:33.43
55
Esther Fisher
NC State
4:33.87
56
Maddy Nikkel
Mississippi
4:34.34
57
Kieran Gallagher
Harvard
4:35.13
58
Morgan Ainslie
Georgia
4:35.18
59
Audrey Gordon
William & Mary
4:36.04
60
Aleta Looker
Georgetown
4:36.34
61
Jasmine Staebler
Iowa State
4:36.68
62
Miranda Sadler
Harvard
4:37.88
63
Scarlett Fox
Mississippi
4:41.42
64
Saga Barzowski
Mississippi
4:41.83
65
Jill Weston
Kentucky
4:42.26
66
Anna Wasko
William & Mary
4:42.54
67
Jena Pianin
Northwestern
4:47.68
68
Rachel Snyder
William & Mary
4:48.63
69
Jocelyn Hubbard
Georgetown
4:50.57
70
McCall Ledgett
William & Mary
4:54.98
71
Sarah Goodrich
William & Mary
5:00.87
Jamie Grossman
Boston U.
DNF

800 m kvinner

1
Jessica Harris
Notre Dame
2:05.26
2
Aubrey Wilberding
Michigan State
2:06.71
3
Jasmine Staebler
Iowa State
2:06.85
4
Elizabeth Whelan
North Carolina
2:06.98
5
Shannon McDonnell
Yale
2:07.09
6
Ally McSherry
Minnesota
2:07.25
7
Sarah Hardie
Columbia
2:07.83
8
Courtney Clayton
Vanderbilt
2:08.18
9
Erinn Stenman-Fahey
Iowa State
2:08.47
10
Delaney McDowell
Liberty
2:08.59
11
Brittney Wade
Columbia
2:08.67
12
Katherine Delaney
Vanderbilt
2:08.73
13
Shannon Hugard
Cornell
2:09.25
14
Kathryn Lazarchick
Wake Forest
2:09.30
15
Ansley Gebben
Liberty
2:09.33
16
Jamie Marvil
Notre Dame
2:09.37
17
Leanne Zimmer
Mississippi
2:09.58
18
Maddie McHugh
Mississippi
2:09.61
19
Kieran Gallagher
Harvard
2:09.73
20
Evelyne Guay
Iowa State
2:09.74
21
Taylor Corder
Mississippi
2:10.05 (2:10.05)
21
Micah Brickhill
Virginia
2:10.05 (2:10.05)
23
Julie Mathisen
Eastern Kentucky
2:10.24
24
Kristen Niedrach
Cornell
2:10.28
25
Lauren Moody
North Carolina
2:10.49
26
Haley Johnson
Minnesota
2:10.53
27
Jocelyn Hubbard
Georgetown
2:10.61
28
Beth Shenck
Pittsburgh
2:10.67 (2:10.67)
28
Devon Artis
Georgia
2:10.67 (2:10.67)
30
Jenna Wesley
UAB
2:10.71
31
Clare Peabody
Brown
2:10.73
32
Taylor Worthy
Brown
2:10.82
33
Maddie Criscione
Vanderbilt
2:10.83
34
Rachel Halmon
Maryland-Eastern Shore
2:10.93
35
Elizabeth Stump
VCU
2:11.07
36
Bridget O'Neill
Dartmouth
2:11.22
37
Kate Shelerud
Minnesota
2:11.32
38
Lydia Witty
Vanderbilt
2:11.36
39
Brianna Kerekes
West Virginia
2:11.48
40
Aleta Looker
Georgetown
2:11.51
41
Jill Weston
Kentucky
2:11.55
42
Reagan Anderson
Vanderbilt
2:11.67
43
Stacey Swatek
Minnesota
2:11.75
44
Kelly Hart
Notre Dame
2:11.81
45
Stephanie Knight
Notre Dame
2:12.19
46
Caitlin Krol
Wake Forest
2:12.67
47
Delaney FitzPatrick
Yale
2:12.98
48
Ginger Hutton
Vanderbilt
2:13.00
49
Ellen Crook
Pittsburgh
2:13.03
50
Emma Gilmore
Murray State
2:13.22
51
Lara-Ann Schwede
Wake Forest
2:13.50
52
Emma Lower
Yale
2:13.72
53
Gabi Rinne
Yale
2:14.38
54
Claire Tito
William & Mary
2:15.01
55
Amy Cashin
West Virginia
2:15.02
56
Meredith Bozzi
UNC-Wilmington
2:15.56
57
Lucy Biles
North Carolina
2:15.66
58
Courtney Breiner
Boston U.
2:15.97
59
Kathryn Vannoy
William & Mary
2:16.41
60
Kelly Williams
West Virginia
2:16.44
61
Natalie Bordes
Georgia
2:16.56
62
Lindsay Schott
William & Mary
2:16.60
63
Paige Ferrucci
Boston U.
2:18.78
64
Stephanie Urbancik
William & Mary
2:21.11