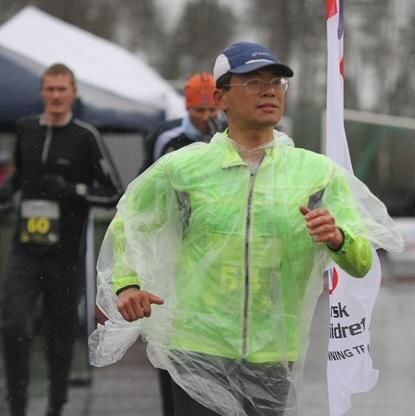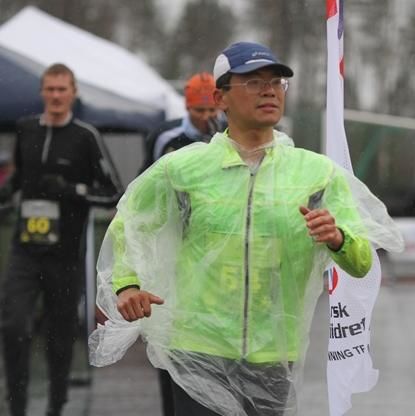 Jin Cao fullførte Ultra-Trail Mt.Fuji
161 km 9120 høydemeter
Ultra-Trail Mt.Fuji er Japans største ultraløp, med en spektakulær løype, og i år med en nesten norsk deltager: Jin Cao som løper for Norges Bank.
Artikkelen fortsetter under annonsen
På bildet ser vi Jin på Romerikes 6-timers bare 6 dager etter løpet på Mt.Fuji. Han var ikke på noen måte restituert og måtte gi seg etter 23 kilometer.
I Ultra-Trail Mt.Fuji løp han derimot inn til en 263.plass av totalt 1.200 løpere.
Løpets hjemmeside

Vi har sakset fra Jin's oppsummering på Facebook:
Finished Ultra-Trail Mt. Fuji (UTMF) 2013 in the early morning of 28 April. The finishing time is 36:45, ranking 263 out of more than 1200 participants.

This year is the second edition of UTMF, following a reversed course of the last year's, with slightly increased distance and elevation gain (161km vs 156km, 9120m vs 8503m). UTMF is aiming to create an Asian sister race of the legendary UTMB in Europe; in terms of technical difficulty, I would say UTMF is definitely not easier and well deserves its name.

Since the soil of mountains in Mt. Fuji area is rather loose, the ascending / descending trails in UTMF are therefore mostly straight up and down instead of going zigzags like in the Alps. This makes the race very exhausting. After some gentle climbs till km 36 (see http://www.ultratrailmtfuji.com/en/racers/course/), the course went over four continuous mountains in the next 18 kilometers. A large number of runners got completely exhausted after this section and had to retire at A3 (km 54.9).

If runners managed to survive till A3, they would have some pleasant time following the mild ascending trail till A5 (km 88.8). Then the trail goes up on the southern slope of Mt. Fuji till the current snow line (around 1900m above sea level), followed by a sharp descending on the volcano ash – very unique running experience.

The journey from A6 (km 95.9) to A8 (121.7) was rather a warm-up session for the next challenge, then the course started again going over one mountain after another. The most extreme part was around km 132: one has to climb up an almost vertical cliff for around 300 meters. Although I already finished UTMF last year, I still couldn't help wondering when going through this section: how did I manage to run down here one year ago?

My stomach went on strike before reaching A8, refusing to accept anything including water. Still feeling strong, I decided to keep going. The last 10 hours were mainly battles against sleepiness, fatigue, low energy, and dehydration. It was hardly possible to describe how released I felt when I passed the finish line.

UTMF is a challenge of everything. On the muddy steep slopes, it was sometimes even hardly possible to stand still. Falling down and getting wounded were just part of the game (to protect the environment, trekking poles were only allowed for a few short pieces of the course). One runner behind me was hit by a fallen rock on the toe and got badly injured; some participants were even attacked by bears last year (carrying bear bell is obligatory in UTMF). Although hot in the daytime, it was extremely cold in the nights. Usually I am very comfortable with wearing only shirt and shorts as long as it is above zero degree, but this time I was still feeling frozen with fleece all over (digestion problem was one reason). Fortunately the sky was mostly clear during the entire race, otherwise I could hardly imagine what would happen if it rained or snowed!

UTMF is a unique tour, too. Most of the time Mt. Fuji was within the sight. It was just stunning to watch the beautiful mountain in the sunrise or under the full moon; the scenes were once seen never forgotten. The support along the course was impeccable and every runner was perfectly taken care of. It was the glorious landscape and Japanese hospitality that makes the entire harsh journey well paid off.